Jason Wu and the Pantone Color Institute have developed a new grey color to mark the launch of GREY Jason Wu in June 2016. Reminiscent of a favorite t-shirt, the color, named for GREY Jason Wu, is seasonless and timeless. The color has an understated femininity with a playful hint of shimmer.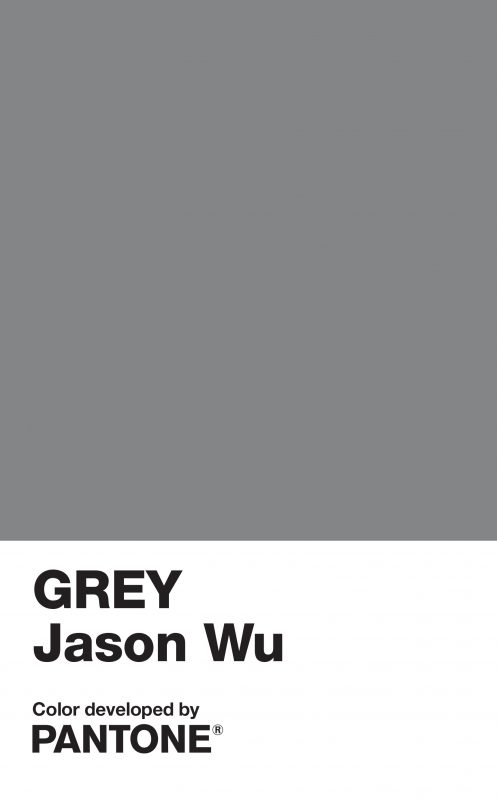 "Grey is my favorite color— I've been attracted to the color's ease, calm elegance and warmth," says Wu. "I love the idea of collaboration and the opportunity to work with different talents. It's so exciting to partner with the Pantone Color Institute to create a custom grey that embodies the characteristics of GREY Jason Wu."
It's truly a color to live in every day. Jason and Pantone have developed a color that reflects the laidback personality of the GREY Jason Wu girl. The result is a lighter tone of grey, comprising of 90% of white with a hint of blue. The color mirrors the brand's sense of uncomplicated chic.
"A window into the soul of a brand, color is a powerful tool for expression, communicating identity, emotion and mood," said Laurie Pressman, Vice President of the Pantone Color Institute. "More than a color, GREY Jason Wu is a state of being, a timeless grey shade that captures the collection's unique combination of relaxed sophistication and soft warmth."
About GREY Jason Wu
Launching in June 2016, GREY Jason Wu is a new sister collection created by Jason Wu born from his desire to dress his friends and inspired by their dynamic personal styles. Named after his favorite color, Jason wanted to create a collection with chic silhouettes and playful graphics representative of his personality. There is a collaborative element to GREY Jason Wu, starting with artist Hunt Slonem, which will carry through the collection in many ways each season. The collection will be available through its website, www.greyjasonwu.com, and at Bergdorf Goodman, Neiman Marcus, and Nordstrom.